Player Registration
If your team contact has already registered your team, and you are a player who needs to register into it
Our Touch Association runs a Summer Competition in Gundagai that is open to players from all around the district. We have many players come from areas such as Tumut, Brungle, Jugiong, Adjungbilly, Coolac, Muttama, Cootamundra, Junee, Tarcutta, Tumblong & Adelong.. Our Summer competition generally starts in the second week of October and has a break for a few weeks over Christmas Holidays before leading into finals in March. Games are played on Wednesday evenings at Owen Vincent Oval, Gundagai.
The Summer Junior Competition runs for approximately 15 weeks (10 before Christmas and 5 after). Please note we will not run games over the Christmas / New Year period.
How much does it cost?
We charge our registration fees per player in 202021 being $40 for juniors (12-15 at Round 1) and $65 for seniors (16 and above at Round 1).
Registering for Touch has never been easier.
If your team contact has already registered your team, and you are a player who needs to register into it use the Player Registration above and search for your team name.
To view fixtures and results please use https://touchfootball.com.au/competitions when our competition has started.
Field Layouts
Our association play at Owen Vincent Ovals in Gundagai NSW
There is currently a total of 5 fields available.
Is Touch the same as Tag?
No, there's no 'tag' in Touch Football! You don't need any specific types of shorts to play like you do in a tag game. 
Do you have to be fit to play Touch?
Nope, Touch Football at park level is a social sport. And there's a reason it's Australia's largest social sport, with 700,000 people around the country taking part – everyone can play, no matter your age or size. It's just about finding a social team that suits you.
What is Mixed Touch?
Many Touch Football clubs around the country offer 'Mixed' competitions, which means males and females can play in teams together. Depending on the age criteria set by the club, this means whole families (kids, parents, grandparents) can event play together. Even at the most elite end of the sport, there are Mixed as well as Men's and Women's divisions.
Sports Injury Claims Procedure
When injured, report your injury to your Association immediately and fill out the injury report form. (This must be done on the day/night)

DOWNLOAD HERE

Request a claim form within 30 days via Sportscover –

www.sportscover.com

or download via the TFA website

www.touchfootball.com.au/claimform

Ensure your team, local association and state are provided. Ensure the official report form is completed by your association. Please remember to complete all section to avoid delay

Have your medical practitioner to fill in the appropriate statement and email all completed paperwork to

sport@marsh.com

Claim from your Private health insurer/Medicare, if applicable

When treatment is complete please return all accounts.
Touch Football Australia manages changes to the policy to maintain currency with industry requirements. In addition, claims are managed so large increases related to increase claims are evened out across the scheme ensuring stability with insurance related costs for local associations.  
To review the coverage available, we recommend all individuals to consider their personal circumstance and assess if additional external coverage is required outside of what is offered as part of membership to the affiliated structure of Touch Football Australia.
 To view policy related information, please visit the 'Insurance' section of the Touch Football Australia website:
For Wet Weather Updates please follow our Facebook page and the "NEWS" section on our website.
Decisions will be attempted to be made well in advance, however this is sometimes out of our control.
In the case of inclement weather, you should contact for Council Field Availability after 2pm on the day of your game.
Phone number: XXXXX
If fields are open, rain, hail or shine the games are ON. There is no need to make personal contact with anyone from the Association as they are guided by the Council. If for any reason the games are cancelled but the grounds are open, then you will be notified accordingly.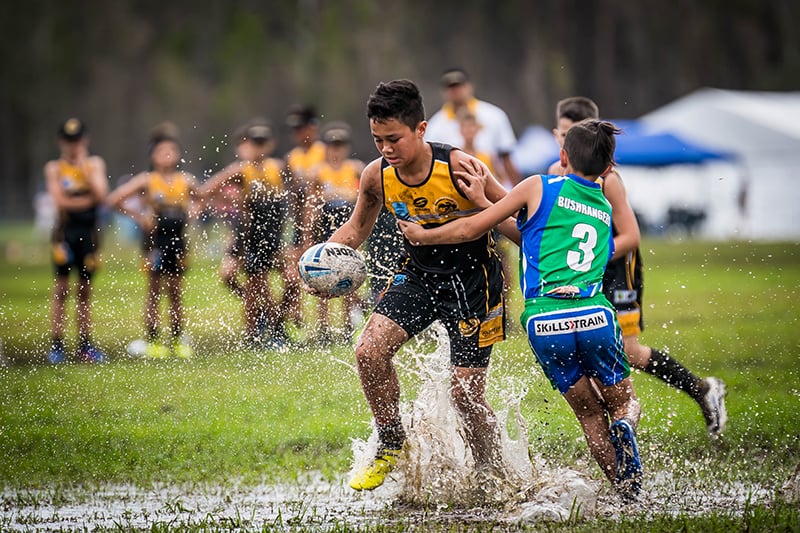 Duty Referee
Gundagai Touch Association utilises a Duty Referee system.
All referees please report to the desk at least 15 minutes prior to your game. Some of you will be buddy refereeing which means we do not want 2 of you on the field at once, you must interchange.  We will explain when you report, including any specific rules for our competition.
Referee Uniform
Please wear your own t shirt and shorts as you will be supplied with a referee vest for your game. Please wear football boots or similar to referee in.
Remember your whistle and water bottle.
Roster
If your name is not on the roster for this week, you will definitely get a game the following week. We have done the roster based on first in, first served. If your name is not here it is because our coordinator did not receive your confirmation. If you've discovered you have a game that clashed with your referee duty please contact our coordinator ASAP.
Timeslot 1:
First name, Last name; First name, Last name; First name, Last name; First name, Last name; 
Timeslot 2:
First name, Last name; First name, Last name; First name, Last name; First name, Last name; 
Timeslot 3:
First name, Last name; First name, Last name; First name, Last name; First name, Last name; 
Stand By Referees 
Often we roster referees on as our reserves in case somebody is running late or gets hurt. You still get paid to be on 'stand by' so please don't wander away from the desk area. If you arrive and don't see your name on the roster but it was on the website please come and find our coordinator 
| | | | | | |
| --- | --- | --- | --- | --- | --- |
| Snr Single L3+ | Snr Single L2 | Snr Single L1 | Snr Buddy L3+ | Snr Buddy L2 | Snr Buddy L1 |
| $XX | $XX | $XX | $XX | $XX | $XX |
| | | | | |
| --- | --- | --- | --- | --- |
| Jnr  L3+ | Jnr  L2 | Jnr  L1 | Jnr  L1 1st year | Jnr L1 Buddy |
| $XX | $XX | $XX | $XX | $XX |
All referees on these age groups get paid $XX a game.
NSWTA Event Referees
Any referees who are interested in attending NSWTA events such as Junior or Senior State Cup please let our coordinator know. We also have gala days leading up to this tournament that we need refs for. If you're keen, it's great money and will improve your refereeing skills.